Students lead conversation on acceptance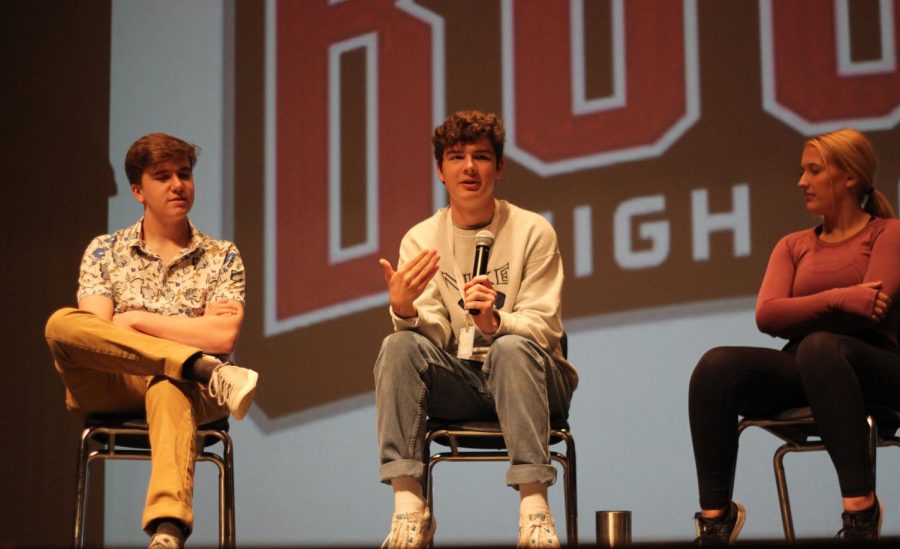 A video plays on the projector in class. The video spreads an anti-bullying message, but it seems corny and generic. The video ends, and the teacher goes back to the curriculum for the day. Student Leadership is changing the way tolerance is taught.
Student Leadership has been collaborating with the administration and teachers to administer "Speak Up" lessons to all students. The lessons will be taught by students from Leadership in assistance with teachers and will be occurring in English classes this semester.
The goal of the lessons is to promote tolerance and unite the school in solidarity against all forms of hate.
Student Leadership teacher Vickie Benson says Student Leadership wanted an opportunity to teach the Speak Up lessons.
"The students thought since they are putting in the work to make the lessons, they could be the ones to teach," Benson said. "Peers leading peers with the assistance of teachers and administrators would perhaps unify the events and show the importance of what our campus is striving for."
Principal Mark Robinson supports the plan and has been coming into their classroom to observe and give input on the lessons. Robinson says that he hopes the lessons will make it easier for students to speak out if they ever are bullied or see someone being bullied.
"I was having [conversations] with parents where parents would say, 'My child came home to say that this either happened at school to them or saw it happen' and they don't feel like they can speak up," Robinson said. "They don't feel like they can address it with their peers and that really concerned me because I never want anybody to feel helpless."
Leadership student Will Heise said that student leaders recognized the need for improvement at Bowie, which gave them the idea of the Speak Up lessons.
"In our discussion we found that there is a lot of bias-motivated actions at Bowie," Heise said. "The idea is to bring awareness to the issues that Bowie's culture has, and to equip the whole student body to combat them."
Researchers at Brown University found that over half of teenagers who are bullied do not report it. This stems from various factors, including not wanting to be seen as a tattletale, or being told to just toughen up. In order to address these concerns, Robinson believes that the Speak Up lessons will make reporting bullying easier for students.
"A lot of times in the student mind that looks like tattling or telling," Robinson said. "This thing just happened or they just saw it and it bothers them, but they don't know how to deal with it, and so that's where the Speak Up training came in."
The Speak Up lessons were started by Teaching Tolerance, a project of the Southern Poverty Law Center whose dedication is fighting against all forms of hate. Teaching Tolerance's mission is "to help teachers and schools educate children and youth to be active participants in a diverse democracy."
"The Speak Up lesson introduces students to the Pyramid of Hate to emphasize the importance of challenging all manifestations of prejudice and discrimination," according to The Bowie Star Newsletter. "It teaches students the four speak-up-to-hate strategies, 'interrupt, question, educate and echo' and allows students to discuss and role-play the four strategies."
While the rest of the student body was taking the PSAT on Oct. 16, Student Leadership held a panel for seniors. In the panel, a group of student leaders spoke and created an open discussion, allowing other students to weigh in and share their own experiences.
"The student panel gave students the opportunity to share their experiences either by saying, this happened to me, I saw this happen to someone, and being able to just be really transparent about their experiences," Robinson said. "Now, [we decide] how do we address that, and how do we avoid those mistakes in the future, so having both of those components was really important to yesterday morning [Oct. 16] being so impactful."
As members of Student Leadership introduce the Speak Up lessons to individual classrooms, Benson believes their presence and knowledge could create a substantial impact for the entire student population.
"The goal is to present information true to Bowie, process the changes we want to see, and have steps in place to use student voice along with the support of teachers and administrators to make a positive, unified campus," Benson said. "It will be a process, but I believe the plan and steps are headed in the right direction."