The Apotheosis casts a choir soloist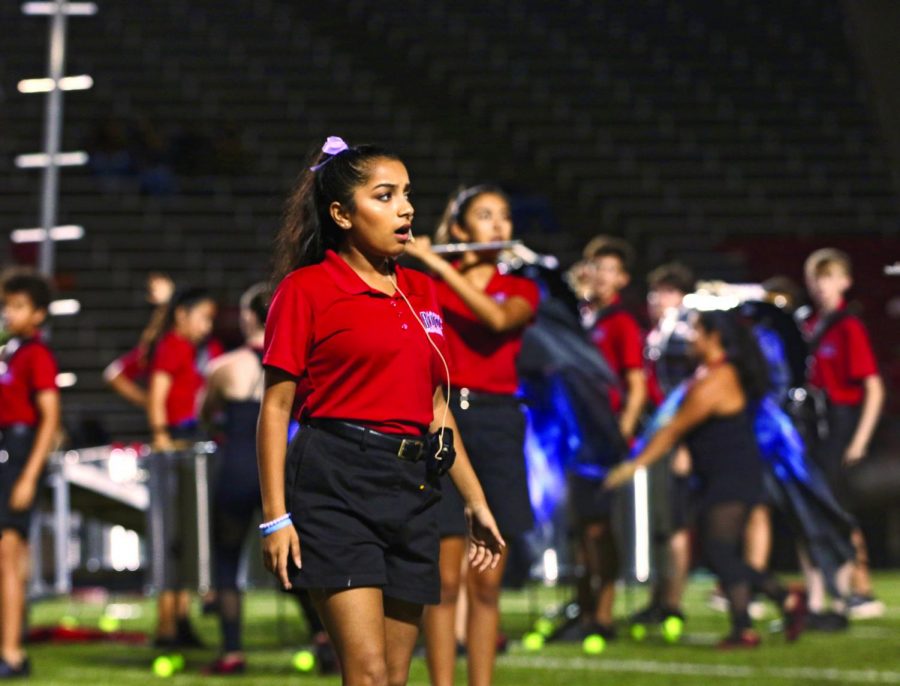 Senior vocalist presents herself with a new a voice to the outdoor performing ensemble
The lights shine down on senior Hannah Cherukuri as she begins to sing for the large audience. The stadium fills with melody as the band begins to play.
The Bowie Band's show this year is called The Apotheosis, which features Cherukuri. The band has never before added a choir member to their show.
"My best friend and I are the main characters in The Apotheosis," Cherukuri said. "I am royalty like a goddess and everyone starts worshiping me but I don't know that. The story is basically me figuring out that I am a god. My best friend is the storyteller and she is the one that informs me."
All-State is a competition for musicians particularly high schoolers in Texas.
"After me and (senior)Sara (Brown) both made all state they decided to write us into the show," Cherukuri said. "It is really rare that marching band shows have someone who isn't in the band."
Brown is an oboist who has also been added to the marching band Show.
"I am like the instrumental counterpart to Hannah's singing vocals," Brown said. "Being in this show is an amazing feeling. Getting to have a part in making a show that will entertain people makes one feel so accomplished. Knowing that one day someone may decide to join band because they loved the show you were in makes all the hard work worth it."
Band Director Garth Gunderson describes the process of putting the show together and the behind the scenes on what it takes for a successful show.
"We meet as a staff and talk about what went well and what didn't go well," Gunderson said, "We hire someone to write the show for us and then the drill designer writes the drill for that. We have a program coordinator who coordinates how the color guard fits in and the props and all of the production value."
In order to be considered as a soloist it is necessary to have the right experience.
"Sara and I both made all-state, so after that the director wanted to implement us in the show," Cherukuri said. "I sing and dance while she plays her instruments. It is so fun to be able to do this because I have been the marching band's biggest fan."
The band competes in various competitions and also is included at the halftime performances at football games.
"It is a very nerve-wracking process but it is one of the most rewarding feelings when you finally do make it," Brown said. "You work for months on the same music and then you get to perform with the best musicians that are your age and it's amazing."
Gunderson guides the soloists on the field during the performance in order to make sure things are working smoothly.
"Hannah Cherukuri is an All-State Choir member so she is one of the best singers in the state," Gunderson said. "We utilize that talent and she was also in band in middle school so she already came prepared. I am the person on the tower that communicates to her things that I am hearing through the speaker because sometimes when you are singing you are not aware of how it sounds forty yards away."
There are many advantages that come along with being a soloist in the show.
"The greatest benefit from doing this is that me and my three best friends are able to travel together during senior year," Cherukuri said. "I never thought this would be something I would be able to do. I have had many people who are so supportive and I think that is another benefit I have gotten from this."
After hours of preparation, the show is finally ready to perform in front of hundreds of spectators.
"When all of the pieces come together it is very fulfilling," Gunderson said. "We started the design process last November, so we have been working on this show for about six months. We are still at a point in the season where we are developing the ideas and so it is a work in progress."
Participating in the marching band Show is a role that requires effort and preparation months in advance.
"I was so scared going into this because I had so many questions," Cherukuri said. " I had to mentally prepare myself because it is a crazy amount of hours to put in. It can be so much work we have rehearsals everyday and most people don't usually know that. Every bit of hard work has been worth it and I have grown a lot as a musician."