Students compete to win first-ever Nerf war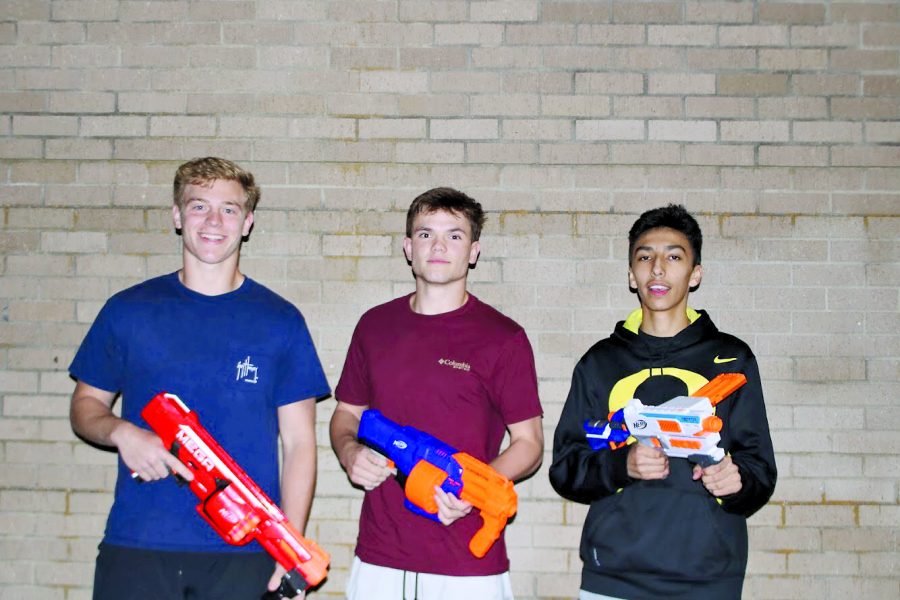 To read more about Bowie's first annual NERF war, check out the podcast with the creators of the competition here!
Soft darts soaring through the air, friendly shouts, and sneak attacks have become an everyday sight as teams battle each other each week in Bowie's first -ever Nerf war.
Students from all grade levels have been competing in teams against one another to battle for a Nerf gun victory.
"My friend Riley and I started this around the end of March," junior Teagan Lopez said. "We got the idea from a friend at Dripping Springs High School, and realized a lot of other schools in our area had a Nerf war of their own."
This war has a system in place to keep it organized and fair.
"Our Nerf does five people per team, and uses a bracket system which means each team has one other team per week and the winner moves on to the next week," Lopez said.1-1

While some may think the Nerf war could cause some problems on campus, there are rules in place to keep the game respectful and orderly.
"We don't allow the Nerf guns on campus or at school events so that kids feel safe and we respect school rules," Lopez said. "Other safe zones are airports and churches."
This experience has had positive impacts on participants whether it's cheering teams on or competing against others.
"This has definitely been a really positive experience not just for my friends and I but for the whole Bowie community, this silly game of Nerf has definitely brought all the grade levels closer together and created more friendships," Lopez said.
The Nerf wars have required more than just planning for attacks, they also require teams to physically execute plans to get other teams out.
"My favorite part of my time in the Nerf war was going on chases, and running through parking lots as we hunted other teams," junior Riley McIntyre said.
McIntyre and Lopez hope to improve this event next year to better accommodate everyone who wants to join.
"Next time I run something on such a large scale and not just within a friend group, I want to organize it better because I wasn't expecting so many people to join in the first year," McIntyre said.
The Nerf wars event adds to the social aspects of campus life even though none of it takes place on campus.
"This is basically a big social event , it allows people who would maybe never meet or much less talk, to come together to have fun," McIntyre said.
According to participants, they liked not only the social aspect of the war but also creating a stronger bond with friends and teammates.
"While the social aspect of this whole thing was good, I also found it really fun to be constantly on the lookout with your friends and plan missions while still having fun and joking around," sophomore Ryan Kinney said.
With students from many different organizations in the Nerf war, it offered a common pass time many students could participate in together.
"I really loved working with my teammates and working towards a common goal each week," Kinney said. "It was cool spending time with my friends, because usually we are all involved in so many other separate things so this gave us an opportunity to come together and see each other."   
McIntyre encourages new people to join next year, but warns newcomers to be ready for the commitment to put in the work to win.
"I want more people to join for sure, but just make sure you get a good squad that's ready to play otherwise you won't go far," McIntyre said.
The playful and competitive social event has offered a past time for students to take their mind off of every day stressful tasks.
1-1"This allowed me and my team to forget our outside problems and focus on something juvenile and silly, but fun" Kinney said.
The purpose of the Nerf wars was just to have fun and show students there's more to life than school and the stress that comes with it.
"Next year I want it to be bigger," Lopez said. "I just really want people to realize there's more to high school than home work, busy work and tests."