Senior guard assists varsity to victories
Hailey Atwood steals McDonald's All-American nomination while leading team in scoring
Hang on for a minute...we're trying to find some more stories you might like.
The high pitched squeak of basketball shoes sharply changing directions on the court fills the air as number five swishes the ball through the net, making the amount of points she's scored individually equal to the total score of the opposing team.
That player would be Hailey Atwood, a senior who has been a key player on the varsity Bowie basketball team since her freshman year, according to girls basketball coach Vickie Benson.
"When she came in as a freshman, she played without fear … she was able to play varsity and was the first player off the bench most of the season," Benson said. "From sophomore year on, she's started and played most of the minutes of the game."
Atwood began playing basketball at a young age.
"I have played basketball all my life," Atwood said. "I have trained since I was six, but I didn't start actually playing on a team until the 7th grade."
Benson was impressed with Atwood when she saw her try out as a freshman, and she immediately knew Atwood would become a star player for varsity.
"She had a lot of raw talent and natural, instinctive skill," Benson said. "She was quick, she was fast, she could jump, and she was very athletic."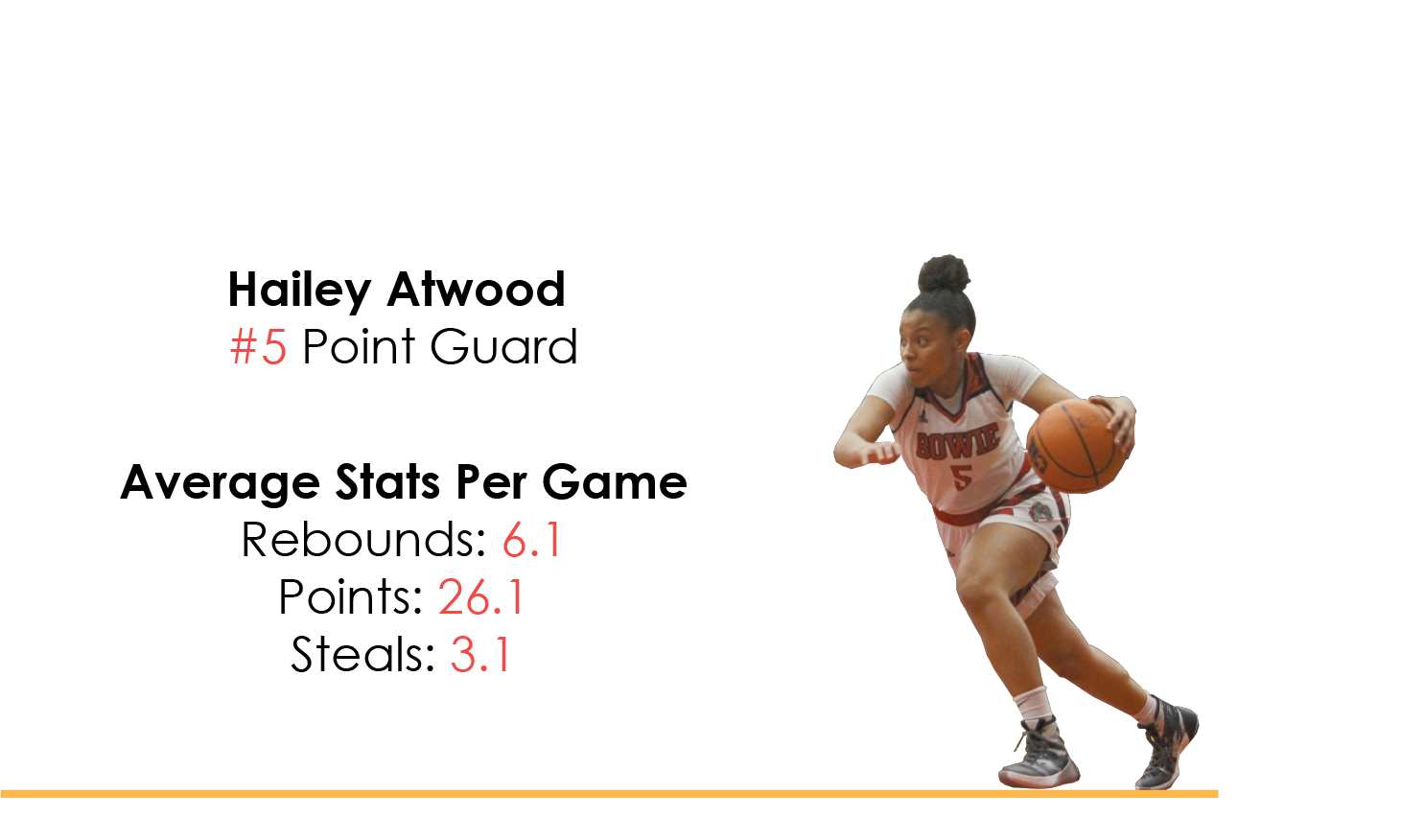 Now on her fourth year of playing the guard position, Atwood scores the majority of the team's points nearly every game.
"Hailey can score," Benson said. "She has a knack for scoring and she does it at all three levels. She does it at the rim, she shoots midrange, she shoots threes she'll get a steal on defense and go make a layup on the other end."
As a result of her hard work and talent, Atwood has received and been nominated for several awards.
"I've been Central Texas Player of the Week," Atwood said. "I was nominated for McDonald's All-American."
Atwood inspires other girls on the team through her play, including sophomore basketball player Brooke Druebert.
"I like playing with Hailey because she is very passionate and has a huge drive to win, [which] motivates me," Druebert said. "She's definitely a key part of the team because she makes things happen on both offense and defense."
Atwood has become a leader on the team due to her skill and responsibility.
"I think if you asked any of her teammates why she's so good, it would be her humility, because she's really good and they all know she's really good, but she doesn't ever point fingers at them if they make mistakes, and if we're not playing well, she owns it for herself and sees it as if she's not doing a good job," Benson said. "They respect her so much that I think sometimes they want to play hard just for her."
Atwood said she works very hard to balance basketball, school, and her personal life.
"I would say being a student athlete is probably the hardest thing you can do, especially at a rigorous school like Bowie or any other level of basketball, including college," Atwood said. "I usually utilize my study hall time and any free time to get all my work done so all I have to do when I come home is rest."
"
Playing basketball definitely made things better and got my mind off of what was going on in my personal life."
— Hailey Atwood
Basketball has helped Atwood get through some rough times of her life, for she feels that being submerged in the game provides a distraction and refuge from reality.
"I have had some personal things going on that really tested my mental strength during my junior season," Atwood said. "Although it was probably the hardest thing I have been through, it made me a lot stronger as a person, and with the support of my teammates, I was able to get through the rough time. Playing basketball definitely made things better and got my mind off of what was going on in my personal life."
Atwood has had very few serious injuries, but she did acquire one this season.
"I have suffered a few rolled ankles, but the only real injury that I had was splitting my eyebrow open during a game that happened this season," Atwood said. "Although I didn't miss any games for it, I still had to get stitches, and I had a nice black eye for about a week and a half."
The team is very supportive of everyone and is a closely-knit group according to players.
"
This team is the smartest team I've had in a long time."
— Vickie Benson
"I think the team chemistry is really strong and a lot of people are really good friends," junior basketball player Sasha Sunga said. "It makes it more fun to play together when everyone gets along."
The team is having a successful season so far with a record of 21-8 overall, and 14-1 in District.
"We're sitting second place in district," Benson said. "We're one game behind Westlake, but hopefully we can beat them when we play."
Though Atwood is the leading scorer and a key part of the team, Benson said the other players greatly contribute to her success and the team's winning record.
"This team is the smartest team I've had in a long time because they … understand strategy. It's just like chess for them," Benson said. "It's not just Hailey; it's the whole team and how everyone understands their job and their role, so that's extremely important."