Traveling abroad in Atyrau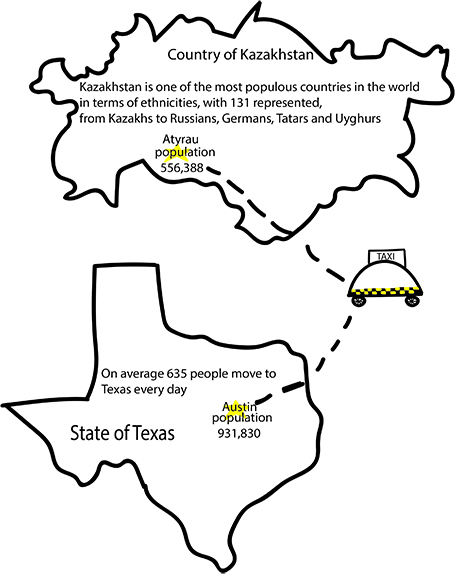 Hang on for a minute...we're trying to find some more stories you might like.
Nicholas Stamper, a former teacher at Bowie, has taken  the opportunity to go teach overseas, which is something he hoped to do since he began teaching. He left to go to Kazakhstan last year and he is teaching to both  high schoolers and middle school students.
"Teaching abroad has been a goal of mine since I got into teaching over a decade ago. I always wanted to give myself the test of living somewhere that makes me uncomfortable. It's a good experience," Stamper said  " It's made me more resilient as a person, and grateful for the luxuries of the U.S. and places like Western Europe."
The country of Kazakhstan is the ninth largest country in the world in terms of land mass, Stamper went to teach in the city of Atyrau.
"Atyrau is a small town, so the community is almost exclusively people who work in the Caspian Sea oil industry. So my students are the children of those people," Stamper said.
Moving to Kazakhstan, Stamper had a pretty good idea of what it would be like and what to look forward to in his new endeavors.
"I would say it is what I expected. I had a pretty good idea of what to expect," Stamper said. "Atyrau is a dusty and fairly small town, so I enjoy my time working at the school and eagerly look forward to chances to travel on our school breaks."
In Kazakhstan, the middle school equivalent is lower secondary school and the high school equivalent is higher secondary school.  Stamper is teaching in a school that is preschool through 12th grade.
"My school is preschool to 12th grade, and we only have a little over one hundred students," Stamper said "So I get tasked into more jobs than I would have performed at Bowie, But I also have WAY less grading."
Stamper is teaching different subjects and also different age groups than he was at Bowie.
"I teach AP Psychology, AP Economics, high school World History," Stamper said.  "And middle school world history. My biggest class has about nine students."
When Stamper told students that he would not be returning there were multiple different reactions, but all knew that having him was a great honor.
"I would want him to know that I actually got a lot out of his class. I learned a lot, and his students were always glad he made it a great environment to work in," sophomore Ella Devaney said.   
Differences in the schooling here and there include the opportunities that the students get for traveling to other countries and also the school year schedule.
"We don't end the year until June 22nd.  Also, I get to do some travel with my students like to the Netherlands and Germany for a Model UN conference in April, which is pretty exciting," Stamper said.
Aside from differences between the school in Atyrau and Bowie, Kazakhstan is a very different place from the United States overall.
"Every car can be a taxi. Seriously, you can flag down just about anyone and negotiate a cab ride somewhere around town, well, assuming you speak Russian or Kazakh," Stamper said. "This is fairly easy to do in Atyrau, but in the big city of Almaty, you'll even see people negotiating taxi rides right along the highway. There are lots of differences, but that one really stuck out to me."
Stamper also decided to create a blog, titled "Yeti in a Yurt", available at stampergeo.com, where he shares his traveling experiences and also the new cultures that he is being exposed.
"Seemed like writing about experiences was a good break from reading, Netflix, and Xbox, so I decided to try it out. I've fallen off a little bit because the things that seemed so different and extraordinary became pretty commonplace quickly," Stamper said "And then I realized how shallow my knowledge of the culture I'm living really is, so I'm trying to make my writing more meaningful instead of shallow fluff."
Stamper knew that he wanted to teach in a foreign country and he did all that he could to make that dream come true.
"There are lots of search firms that help place teachers at international schools all around the world. I went to a job fair in the Boston area last winter, but they have them all over," Stamper said "One of my colleagues here attended back to back job fairs in Bangkok over winter break to find his job in Vietnam next year."
Stampers contract extends through the 2018-2019 school year, and he explained that he wants another chance to teach overseas after the experiences he has had in Kazakhstan.
"My contract goes through the 2018-2019 school year as well, and I haven't decided what to do after that, but I will say that moving overseas seemed daunting until I did it," Stamper said .
Former students of Stamper remember him as being very outgoing and always talking about traveling and his experiences.
"He was always engaged with all his classes," junior, Allison Grooms said.  "And I feel that this is what makes him an excellent teacher as well as becoming a foreign exchange teacher."
Even though he is getting to experience new things, Stamper still misses Bowie.
"I miss Bowie a lot. I miss my colleagues, my students, and the girls' soccer team a whole lot," Stamper said "I hope you are all having a terrific year!"

Hang on for a minute...we're trying to find some more stories you might like.