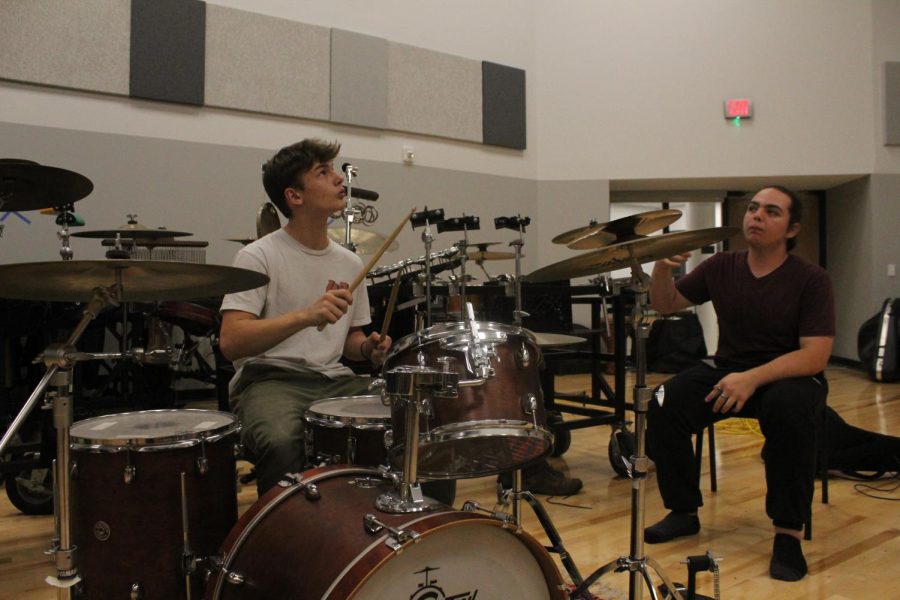 Live music club showcases students' talents
Every year, a club day is hosted in the courtyard. Many students see this as a chance to form relationships and help the community as well as build up a college resume. 
One new club attracted a lot of attention from students, with electric guitarists playing tunes. The Live Music Club consists of many different members with all different talents learning to play live music.
"I've only been once, but I had a lot of fun," sophomore Nyla Ike said. "I like that I know people in the club, which makes it less awkward."
Sophomore Troy Stromberg attended his first Live Music Club meeting on September 8th.
"Everyone was very nice here," Stromberg said. "It is pretty much what I expected. The club itself also ran very well."
The Club consists of 4 separate bands who have meetings on Thursday and Monday.
"We all gathered around and formed groups", Ike said. "Each person basically has their own assignments. In future meetings, we are going to start producing music which should be a lot of fun."
The Live Music club had a large turnout and everyone was assigned a role based on their own instrument or skill of choice. 
"I started picking up drumming during the summer and wanted to practice in a more social environment," Stromberg said. "I also knew that some of my friends were going to be in the club, and I thought it would be fun to talk to them outside of school."
Senior Leanna Reyna is a singer for her band and is an experienced member of the club this year.
"It's been really fun so far," Reyna said. "I've got to meet lots of musicians I have never met. There are lots of different talents and it mixes well."
The club is practicing for a concert they will hold later this school year.
"Every group has one song that they're working on," Reyna said. "We are performing our song in December and we are working hard to make the best product we can."
The club was started by seniors Gavin Lutelle, and Owen Aleman. Members of the club hope to continue having the same success every fall.
"It's a great place for anyone trying to perform live," Reyna said. "Owen and Gavin have done a great job organizing the club. As a singer like myself, you get to sing, if you play guitar, you get to play guitar, everyone has a special role and I can't wait to see the final product this December."