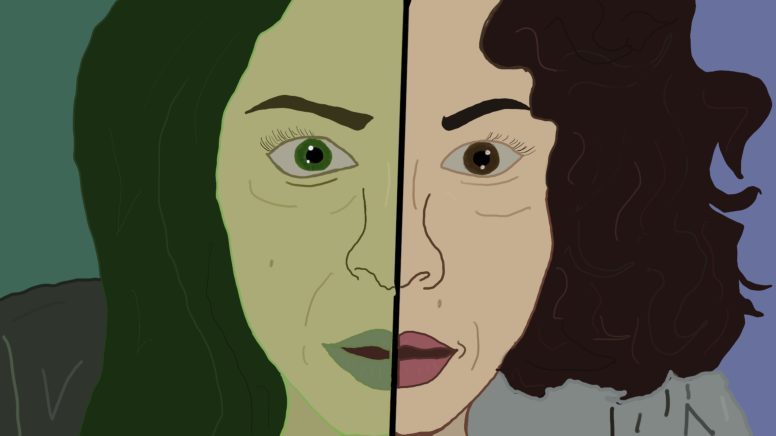 She-Hulk: Attorney at Law has one big flaw
September 27, 2022
She-Hulk Attorney at law is a series that premiered on Disney plus on August 18th, 2022. Having only been on the Disney plus platform for less than a month, the series has made it onto the charts with a force. Currently, only  a few episodes have been released but a new episode premieres every Thursday until October 13th, when the whole season is released.    
The show's protagonist  is Jennifer Walters, an attorney whose cousin is The Hulk. Jennifer has to go through obstacles of life being she-hulk and balancing her attorney job. 
This all started from a blood transfusion, as Jennifer explains a flashback in the opening scene with Bruce. Jennifer and Bruce were on their way to a camping trip when all of the sudden they crashed into a spaceship, tumbling down a hill. Both of them came out injured, and Jennifer rushed over to Bruce. As she was reaching for him, both of their gashes mixed causing a blood transfusion. 
She-Hulk got her name when she was in court. After she had gotten everything situated and feeling like she could embrace the hulk persona, a super influencer by the name of Titania broke through the wall of the court house and launched at Jennifer. Transforming into her hulk persona, she defeated the super villain and led on the case like a boss. The fight went viral, and as a result she got the name She-Hulk.
At first I wasn't really interested in the show due to the title, but don't judge a book by its cover. This show is filled with a mix of action-packed scenes and Jennifer's subtle life. Another really awesome thing about She-Hulk was that it contains a little bit of everything. While it focuses a lot on Jennifer and her adventures, there are a lot of references to previous Marvel movies and of course there is the Hulk.
My least favorite thing about the show was that there is not really any plot right now. Every episode is either Jennifer having a problem or a fight with a new super villain. It's not leading to a climax which is fine, it's just that the show would be a little more enjoyable if there was one.
My favorite scene from She-Hulk was when Jennifer was invited over for a family dinner when she really didn't want to go. As she went to sit down at dinner with her family, Ched, her cousin, immediately pointed out that she was fired. But he goes on to say that he was promoted at his Best Buy job and Jennifer was humiliated. This scene was really enjoyable because it was funny to see how over it Jennifer was that her teenage cousin had a job and she didn't.
If I had a scale from 1 being the most horrible show ever to 5 being the greatest it would be a solid 3.5. Overall She-Hulk was a really enjoyable show aside from it lacking a  plot. Each episode brought a new adventure with Jennifer which made it to where you never knew what was coming, which I liked. I definitely recommend it if you are a person who isn't all for action packed movies or shows since it contains a mix of both. She-Hulk will give you a good laugh from all the cheesy jokes and awkward moments.
Visually stunning film staring Brad Pitt a must see for thriller lovers
A hyper-violent, international take on a classic story of a man out of luck, Brad Pitt's most recent film, Bullet Train, is easily one of the most creative action films I've seen in recent years. Bullet Train follows Ladybug, a man for hire coming back from a long break of self-reflection, and his handler, Maria, who gives him a fairly simple task of stealing a briefcase off a train. Unfortunately for Ladybug, the plan derails as more and more players enter the metaphorical playing field in search of the briefcase, and the contents within.
With each passing moment, Ladybug's job gets harder and harder as an increasing number of characters board the train with the intent of stealing the briefcase for themselves, or killing the person in possession of it. 
Characters like The Wolf, Lemon and Tangerine, and the Elder board the vessel in search of the briefcase, or closure for their own personal journeys. While Tangerine and Lemon, played by Aaron Taylor-Johnson and Brian Tyree Henry respectively, bring comedic relief to an otherwise intense action thriller, characters like The Wolf definitely ratchet up the dramatic factor and bring the action to the beautifully shot calm locomotive. 
On that note, visually the film is stunning. Bullet Train easily serves as one of the most beautifully shot action films in recent years, with excellent camera tricks, and impressive lighting that brings a new emotion to mind with each new shot. 
The cinematographer, Jonathan Sela, leaves no shot feeling empty, as yet another gorgeous installment of his defining visual flare that can be seen in other films he worked on, such as John Wick, and Atomic Blonde. However no masterpiece is complete without an excellent accompanying score to back it up, and Bullet Train is no different. 
This rail-bound flic's soundtrack blends together iconic 60's songs covered by Japanese pop artists, and epic soundtrack pieces by Dominic Lewis. Acting as the loudest aspect of the opening of the film, Avu-Chan's cover of iconic 70's hit Stayin' Alive by the Bee-Gees, Miki Asakura's impeccable cover of Holding out for a Hero acts as a signature piece of the film's final act. Such unique pieces give Bullet Train an energy that isn't shared with any other action film I've seen.
Bullet Train's capacity for excellent storytelling and talent is boundless, as it collects and intertwines various story-lines, from a man avenging his friend, to a pair of brothers trying to make it in a dangerous business. 
Towards the climax of the film, the train barrels further and further into chaos as its passengers come closer to reaching their final destination at the hands of the most dangerous man in Japan. The core plot of the film centers around said man, The White Death, a dangerous Yakuza leader responsible for the brutal death of his predecessor. His actions decades prior directly lead to the events that transpire throughout the film.
Bullet Train excels in just about every category, with phenomenal action, tense emotional scenes throughout, and a spectacular score to back it up. As a film critic, and action movie fanatic, there are very few films to come out this year that I hold in such high regard as Bullet Train. Going in knowing very little made the experience all the better as I was led through a roller-coaster of a strong passionate story that certainly had a lot of heart poured into it. If there was one film that I'd recommend people watch this year in theaters, its Bullet Train.
Leave a Comment
Better Caul Saul finale review
Vince Gilligan and Peter Gould's renowned series Better Call Saul has finally ended after six seasons and seven years. The finale of the show drew a lot of attention to how the long cinematic universe of Breaking Bad is finally coming to a conclusion. Better Call Saul's finale did a lot for the main character Jimmy Mcgill, also known as Saul Goodman, who changed his final choice, instead of going to jail or cheating the system like he did the entirety of the show. Jimmy's past decisions were all the real him, but only through the terrible things Jimmy thought he would need to do to stay afloat in his life. Jimmy's greed and selfishness shone through when he thought that was all he could do to save himself. Jimmy was only a good person under the right circumstances.
What I think pushes Jimmy to do the right thing and confess in the court finale is his past decisions and what people have thought about him in the past. Howard Hamlin, Jimmy's old boss and the CEO of HHM, the law firm in Better Caul Saul, says "you can't hide who you really are forever." This was likely talking about how deep down Jimmy is a good guy, and that will only show depending on his future decisions. This ending shows the people watching that Jimmy was a good person but made bad decisions out of greed and selfishness. Along with showing that Jimmy might have a good side it also shows that all of Jimmy's bad choices will catch up to him.
Jimmy's lack of good choice-making makes the ending even better because the show goes back into memories of his bad choices and what they did to affect others alongside himself. These moments of selfishness land Jimmy in prison in the end, but these moments were not the real Jimmy; Jimmy's real self is only shown in the moments that he gives up faking a selfish and egocentric life to be a person that is not self-centered.
In the finale, Chuck Mcgill, Jimmy's older brother and law mentor, states that "My brother is not a bad person. He has a good heart. It's just he can't help himself. And everyone's left picking up the pieces." I think this quote is really what tells us how Jimmy's actions had consequences over the entire show, even when his choices affect people very close to him he still does nothing to change until the end. To me, this quote means a lot over the entire show but the main idea of it meaning he's a good person with bad actions relates to the ending with Jimmy's "leftover pieces" being picked up by him this time instead of other people going through this work after his wake.
To me, this ending doesn't make me feel bad for Jimmy even though I know that he's the one person that's supposed to get out of every bad situation with just loopholes. Even with him being the main character that you're supposed to feel sympathy for, I can't feel bad for someone that helped a murderer. The ending of Better Call Saul overall goes great with how the show portrays Jimmy's life as a lawyer and criminal. I think that the ending makes Jimmy more human than ever; It makes me feel like the characters that made it to the end of the series aren't just done after Jimmy is arrested. Instead, they still live on even without Jimmy.
Leave a Comment