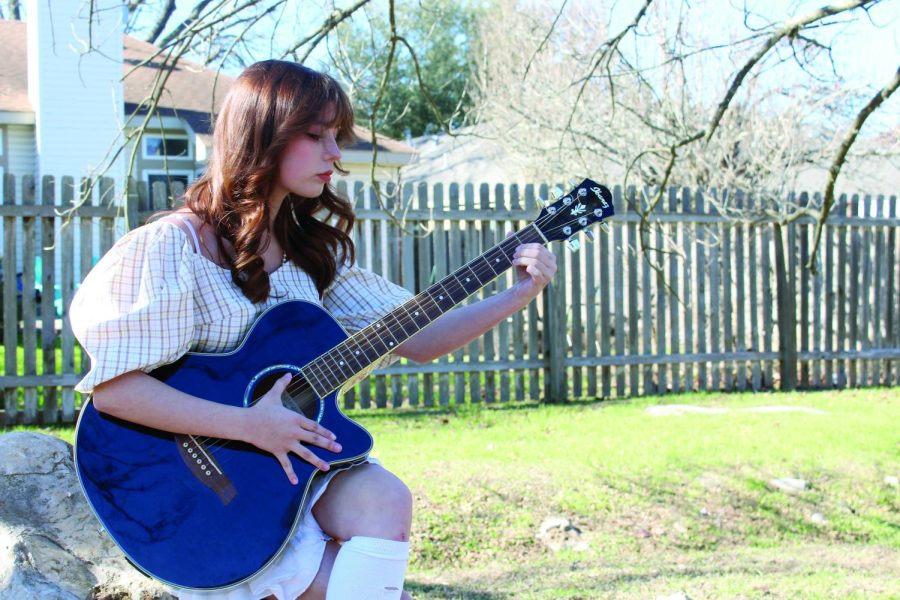 Audrey Hagan
Sophomore finds creative passion through a new hobby
March 15, 2022
Sophomore Sharon Carson opens YouTube to learn more about things such as guitar chords and how to create a melody.
Carson has gone through many methods to figure out what works best for her. She creates music herself and is self-taught. For any musician there will be ups and downs, but because Carson didn't have any previous training there have been more challenges when creating her music which has caused her to find many different resources.
"Youtube taught a few chords and songs," Carson said. "When I first started learning guitar I had no idea how to play so when I went to YouTube. I started with easy songs and I just learned from there."
There are many struggles that musicians face while creating music. Having to learn everything on her own is just one problem that Carson has faced and has helped he find ways to overcome challenges when making music.
"Finding an original melody.  Writing decent lyrics that actually flow with the song," Carson said.
Although there are struggles in creating music, it has many perks for Carson as she has been able to learn new things and unlock new experiences.
"What I enjoy most about being able to create my own music is being able to express what I'm feeling whether recently or not," Carson said. "I'm able to say things I can't just come out and say to people."
To Carson, making music is more than just strumming a guitar and singing. Carson uses it as an escape to release feelings and express herself.
"My music comes from my heart. It puts my feelings into words," Carson said. "So I start to think about how I'm feeling, then I make a title and it all comes all at once. I try my best to get all on my notes app and I use voice memos to get down the melody and it all comes together."
Creating music has allowed Carson to grow creatively. From her first-ever song to her most recent songs, Carson expressed how she has grown over the years.
"The first song I wrote was called 'He's a shopper.' It was just a silly little piece I wrote because of how much my father would buy things when I was a child," Carson said. "That song was solely just piano and random patterns I put together. The latest song I've done is '13'. I worked on that one for a few months because it was hard putting my feelings into words even though it was so simple in the end. That one I actually published and I'm excited to share more work."
Along Carson's journey with music, there have been a few things that inspire her and support her most.
"My family and close friends have been a huge part whenever it comes to my covers or my original music, but especially my father," Carson said. "My father is actually the one who introduced me to a singer named "Birdy". Although I've been singing ever since I could remember I knew once I heard her sing That's what I wanted to do with my life. I was around eight years old at the time."
Making music has allowed Carson to gain new experiences that only come with making music. Carson is collaborating with other students to make music as well and her independent pieces.
"Her most recent song releases are all her, but lately we have been working on some stuff together so look out for that when the time comes," sophomore Zain Bukhari said, "She is good at making melodies and I'm good at writing lyrics. It's a match made in heaven."
Because Carson has been involved with music ever since she was young, she has a strong passion for it and takes it very seriously.
"I was so surprised, but proud of how she greets her music, she is very serious about music, learning the software that helps her record, learning instruments and her abilities, from remembering the words and being able to get up in front of the crowd and perform," Sharon's dad Chuck Carson said. "She follows her path, regardless of any obstacles that might try to slow her down."
Many believe that Sharon has a natural talent with music, and she has decided to use this to her advantage in the future.
"I plan on continuing this to my best abilities," Sharon said. "I do want to go to college and become an entertainment lawyer so I can still be in that field whether it be signing my own contracts or taking care of other artists."
Creating music is a big part of Sharon's life and she gets a lot of happiness out of it. Even since she was younger she has always loved it, creating a passion for her music.
"It brings me joy to see her start living the life she always wanted, but this is just the beginning," Bukhari said.
Sharon happened to discover her interest for making music when she was young and always had a very supportive family.
"In closing I would like to say that when she started singing for us and making us sit in the living room while she created her little skits we had thought at the time that we hope she never loses that drive," Chuck said. "As each year passes she just dedicated herself more for her music and we could be more proud of the woman she has become and we look forward to seeing her on the big stage someday soon."