Vandalism at Bowie
September 17, 2021
In the past week, sightings of vandalism have been present throughout schools nationwide. At Bowie specifically, these sightings have varied from ripped off paper towel dispensers, derogatory graffiti in bathrooms, stolen school property, and even a bathroom trash can lit on fire.
The vandalism has sparked controversy among the community, leading up to a special Thursday newsletter from principal Mark Robinson on the severity of the way the damage is affecting students and staff.
"The extent of this destructive behavior is distressing for our staff and students and is very costly, time-consuming, and disruptive to learning," principal Mark Robinson wrote.
Most students that are not involved with the vandalism are shocked at its plaguing throughout schools lately. The vandalism began with a popular Tik Tok trend, known as "devious licks," in which users brag about the school property that they have stolen.
"I was more taken back and confused than ever before because the actions may have seemed "funny" at first but it is very disrespectful to our community, faculty, building, custodians, and reputation," student council president Vanessa Nguyen said. "Although I am not excusing these actions, I see the actions played out more by underclassmen. I believe that people/underclassmen are overcompensating for missing one and a half years of school and skipping forward to high school."
After these various vandalism actions, Mr. Robinson's newsletter established consequences, including an increased staff sweep of restrooms, teacher monitoring, and addressing these actions on the announcements to encourage good behavior.
"It's hard to punish them because this shouldn't be happening. We go to school here and you're messing up the place that we have to go to the bathroom," junior Robert Burris said.
When vandalism happens, it is the job of the custodians to clean up any messes made by students, in addition to the normal messes of high school students they clean every day.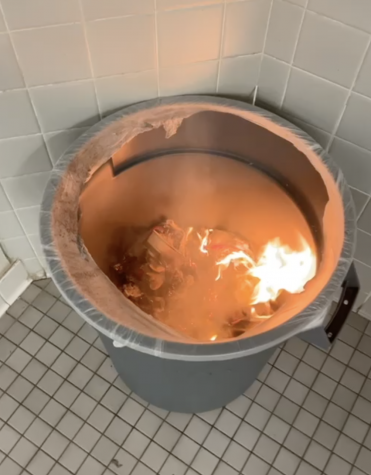 "I don't think the students responsible understand or appreciate the work that custodians are already doing to try and keep the school clean during a pandemic, much less in response to cleaning up after their irresponsibility," senior Sonny Dedmon said. "I think the people responsible don't consider the consequences that could result from their actions or how it affects others around them."
In addition, student actions are causing restrooms to have to be closed, and teachers are beginning to take extra precautions when allowing students to use them.
"The housekeeping staff is overstretched as they work to clean up and repair facilities while managing the routine maintenance and cleaning protocols, and students and staff are becoming increasingly frustrated as bathrooms become inaccessible because of damage," Robinson said in the newsletter. "All of this of course during a pandemic when frequent hand washing and sanitation are part of our public health and safety response plan."
For teachers, the events have been upsetting, especially when having dealt with vandalism before and being aware of the consequences for custodians.
"I would be a little harsher with the punishment because I know we've had vandalism in the past and we had a fire in the bathroom a couple years ago and we never saw that kid again, because he went to the alternative school, and I think that should be the case here," English teacher Matt Flickinger said. "If you consciously violate a vandalism policy and do a lot of terrible, unnecessary work for our wonderful custodial staff, then we shouldn't have the privilege of going to the school anymore."
Overall, the vandalism presented will result in consequences by the staff for all involved, as the entire community has been negatively affected by the actions of the past week.
"Our kids deserve to learn in a well-kept vandalism-free building," Robinson said in the newsletter. "Our message to students is this school building is a gift to the students in our community and we want everyone to have a safe, comfortable learning environment."
Additional Reporting by: Reagan Zuniga, Arushi Sharma, and Sammie Thompson