Dispatch Celebration of the 50 Earth Day!
April 22, 2020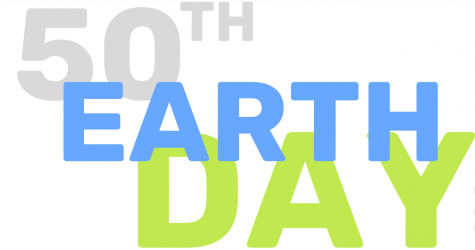 On Wednesday, April 22 marks the 50th celebration of Earth Day. Each year, Earth Day focuses on a new theme; this year's theme is Climate Action, a concept created in order to bring awareness to the harmful effects of pollution in our world and to celebrate Earth's beautiful environment. 
With COVID-19 physical distancing policies in place, Earth Day must be celebrated at home, so virtual events such as environmental lectures and films will be taking place and available online. Visit earthday.org to see a list of events taking place today. 
"Earth Day is a celebration of all of the beautiful, complicated, and intricate ecological services Earth provides and the huge diversity of life it supports," Advanced Placement Environmental Science teacher Ashley Spiro said. "It has its roots in the late 60s and early 70s environmental activism, when the general population was gaining a deeper understanding of the relationship between the environment and human health."
According to americaslibrary.gov, the first official Earth Day was founded in 1970 by then Wisconsin Senator Gaylord Nelson who believed that the environment did not receive enough coverage in politics and media.
"I think it is important we celebrate earth day because it is a reminder that we need to protect our planet," sophomore Olivia Vienneau said. "My favorite part of nature is the beach because I love the presence of being near the ocean." 
As activism for environmental protection and anti-pollution policies increases in the American political culture, Earth Day has become an extremely popular event, with #earthday2020 on Instagram tagged on a total of 339,322 posts.
"It is important to celebrate earth day because it is so easy to not appreciate or just forget about how beautiful nature is because we spend most of our lives surrounded by man-made things," senior Jacy Lim said. "My favorite part of nature might have to be the sunsets because no matter where you are, [a sunset is] there, and most of the time it is so pretty."
In order to see how the Bowie community celebrated the 50th annual Earth Day, view the gallery attached to this story to read about some of our students' favorite memories out in nature. 
"We face many challenging modern environmental issues, ranging from the millions of tons of plastic pollution in our oceans to the looming threat of catastrophic man-made climate change," Spiro said. "These problems will require innovative solutions and collaboration. Earth Day encourages these discussions and promotes hope for a better future."