Photographer captures chic candids
It was the middle of a warm day when she took the photo. She had the camera positioned just right, and all the settings of the camera were perfect. In just a few minutes she would capture pictures of all sorts of smiles and laughs. These moments captured in many images would be shared with family and friends of all kinds.
Junior Tiffany Ard started a photography business at the start of the school year, specifically of portrait photos.
"I got into photography freshmen year because I took photos for the school yearbook," Ard said. "I went to a photography club, so I could learn to use a camera. Once I was in the club, I was extremely interested in cameras, which started the interest to become invested in photography."
This strong interest in photography is a characteristic that seems to run in the family, according to her mother Karen Ard.
"I was always interested in photography and scrapbooking. I think she started following my footsteps," Karen said. "She has always had an artistic eye and has always enjoyed drawing and painting. Photo editing seems to be in the same vein."
Tiffany commonly takes pictures of high school students and travels to multiple spots depending on the pictures she wants to take.
"I take many customers somewhere fun like downtown or Zilker Park and I am always looking for unique backgrounds for my photos," Tiffany said. "We mess around with different angles and overall I thrive in finding the perfect moments to capture for each picture."
For quality pictures, Tiffany works to capture certain facial expressions and communicates clearly to create the image she has in mind.
"I definitely work with people all the time," Tiffany said.  "I usually give them something to think about to capture certain emotions, and I use lots of communication to capture quality pictures."
When most businesses have certain people taking care of each job in the business, such as scheduling or financing, Tiffany takes on these jobs all on her own.
"The business is run by me, I do everything for the business beginning  to end," Tiffany said."I book the customer, find the spot, take pictures and edit or process the picture to share."
With Tiffany running a business independently, this sets certain expectations she has for herself. Ard works hard to meet these standards for each customer and aims to make the perfect picture for everyone.
"The goal is to capture a genuine moment," Tiffany said. "You're trying to create a personality all in one photo."
Photography is an interest that Tiffany enjoys, but her business takes a significant amount of time and adds another large role to her other activities.
"All of the photography takes a lot of time in my busy schedule, with Silver Stars and being a yearbook staffer, it's a lot to take on," Tiffany said. "I  have to upload the pictures and find the good pictures. I take a total of 1000 to 2000 photos per person, then manually edit most of the photos."
  Even with all of the extracurricular activities and major planning to keep Tiffany's business running, junior Jenna Gura states that Tiffany still produces beautiful content for each of her customers.
"Tiffany exceeded my expectations. She was very professional throughout the whole thing and had transportation, timing, location and poses all planned out in advance," Gura said.  "Her picture turned out even better than I thought they would and the overall quality was amazing."
With Tiffany running a business independently, this sets certain expectations she works hard to meet for each customer.
"The goal is to capture a genuine moment," Tiffany said. "You're trying to create a personality all in one photo."
According to Gura, Tiffany creates genuine moments and quality photos by making the photo secessions a pleasant experience for whoever she is working with.
"Tiffany was super fun and sweet during the pictures," Gura said. "She is really high energy which made the whole experience a lot better."
With every business, there are always improvements and changes that can be made to better its success in the future. Ard works hard to set up new shoots to create more opportunities for the business.
"I plan to expand my business for sure, I want it to get to the point where I am taking pictures of seniors full time during my senior year," Tiffany said. "I also want to be given certain events to take pictures at weddings or sporting events. I want to take professional portraits and make a job with a good income."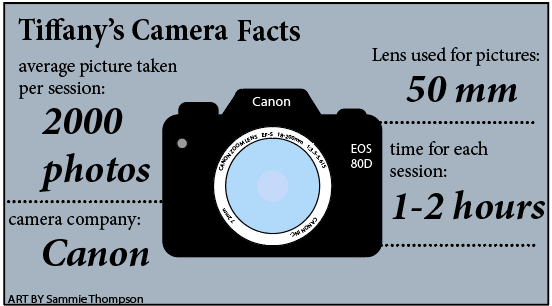 With all of Tiffany's accomplishments and efforts toward the business, Karen could be happier of her work.
"I am very proud of Tiffany to pursue this business," Karen said. "She has always had entrepreneurial aspirations. I'm so glad to see these line up with something she enjoys so much."
Through this developing business, Tiffany sees her photos as more than just a job, but a way to save important experiences for all different people.
"Photography captures a moment that will never happen again," Tiffany said. "You catch a moment that you can keep forever."
Overall, having a  passionate outlook on photography and seeing photos as an important memento for all people is important for business according to Tiffany.
"Photography is an expressive and creative outlet," Tiffany said.  "You want to remember and document life, and the pictures are a perfect way of doing just that."