Bulldog Nation celebrates 30th birthday
Student Leadership hosts carnival for Bowie's birthday on the day of the PSAT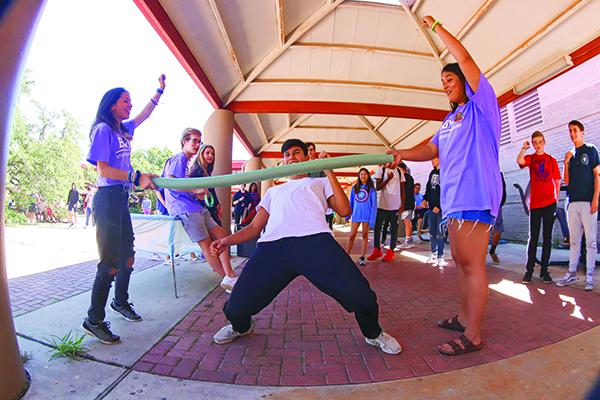 Hang on for a minute...we're trying to find some more stories you might like.
While the official 30-year anniversary was last year, the celebration of that momentous mark has carried through into this school year. Since all birthdays deserve a celebration, the Student Leadership group decided to plan and host a carnival for the afternoon of PSAT testing.
"We thought really hard about what the campus needs for a needs for a No Place For Hate (NPFH) activity, and having a carnival was chosen as our final decision," senior Mary Tijerina said. "We are glad a lot of the students who participated in some of the activities a fun time."'
Bowie's Student Leadership members do their best to convey the message of No Place for Hate, by spreading kindness throughout Bowie and making sure all students feel welcomed.
"The No Place for Hate aspect of the carnival was really about coming together as a community, and trying to promote the message that nobody should be alone," senior Jack Rainey said. "I'm so happy most of our great staff and student body were able to make it to the carnival."
The celebration itself took place after sophomores and juniors took the annual PSAT, when students went to their designated SEL sessions.
"The most difficult part of planning the whole event, was making sure everyone understood what was going on after the PSAT," Rainey said. "Where to go at what time, what was being offered and especially what the SEL FIT sessions were.
At the party, the student leadership students set up numerous booths and games around the courtyard ranging from spikeball, baseball throwing and ring tossing.
"We all got together when planning the carnival to decide on what activities and games we wanted," senior Taylor Bhuiyan said. "We wanted to make sure that we had games for everyone, so no one was left out."
One of the activities featured at the carnival was a dance performance by Bowie's Diamonds and Pearls dance team, which is directly linked to the Multicultural Awareness Club (MCAC).
"Since we've danced at one of Bowie's NPFH event's already, we thought this would be a great opportunity to show off our new team," MCAC Co-President Nyah Burnucho said. "Our club cares about all cultures, so we focus on respect and awareness."
In the end, the carnival was geared towards giving students a fun break after a long day, and also showing students how important the implication of No Place for Hate is at Bowie.
"After the carnival we talked about how the staff and students both had a really fun time, which was our main goal," Tijerina said. "We hope in the future we can keep this carnival as a tradition, since it's a good break from the stress of the PSAT day."