Wrestlers place in state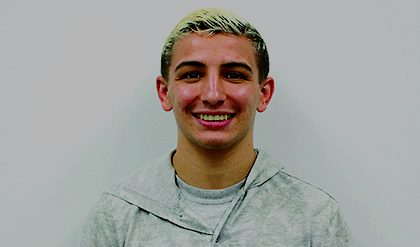 Hang on for a minute...we're trying to find some more stories you might like.
Hours spent perfecting every swift take down. Four years spent in the gym with blood, sweat, and tears for a single match.
On February 23 and 24, the Bowie Wrestling team dominated state, pulling out two major wins. The qualifiers drove up to Cypress, Texas to compete. Senior Alina Kinsey and Christian Moreno were able to place, taking home fifth and first, but all the glory didn't come easy.
"Wrestling is a very hard sport, but all the pain and sweat you put into it will all be worth it in the end," senior Kinsey said.
The qualifiers spent hours in the gym practicing in advance.
"We practice every scenario possible as we go throughout the season," coach Glen Lewis said.
This year Senior Moreno battled his way through the tournament and took home the state title.
"When Christian won the state a sense of euphoria came over me that's almost impossible to describe, it was awesome," Lewis said.
Moreno wrestled a total of four matches over the course of two days, making his way up the sixteen man bracket.
"My biggest challenge was having to wrestle my absolute best each match without losing all my energy," Senior State Champion Moreno said.
Moreno was able to push through all his challenges and was rewarded for his determination.
"Winning state felt exactly how I thought and more," Moreno said. "I got really emotional and it was just a great feeling knowing that all my hard work finally paid off."
Both Kinsey and Moreno will be leaving the program after this year, but their accomplishments will be remembered by the program for years to come.
"Alina and Christian have set examples throughout their careers, and they've definitely impacted the program greatly, we're excited to see what they will do in the future," Lewis said.

Hang on for a minute...we're trying to find some more stories you might like.