Got to keep their heads in the grades
Student athletes learn how to handle both game time and academics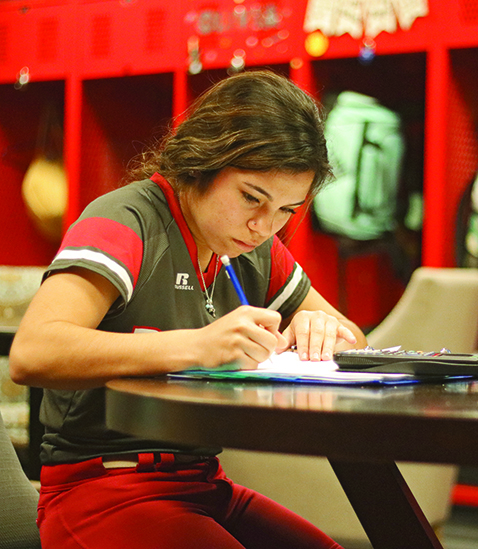 Hang on for a minute...we're trying to find some more stories you might like.
Student first, athlete second those are four of the most common words student athletes hear from their coaches. In order to participate in games, student athletes must be passing all of their classes with at least a 70. However, some sports require student athletes to miss school to play sports.
Sports such as baseball, basketball, cross country, golf, lacrosse, volleyball, soccer, softball, swimming, tennis, track, and wrestling have meets, games, tournaments where students miss one or two days of school to participate. Away games may require student athletes to leave school early to arrive at the game. Missing school means that student athletes are required to makeup work.
"At the start of the semester, we had Thursday, Friday, Saturday tournaments for weeks on end, I didn't go to many B day classes," junior soccer player Kendall Johnson said. "But luckily there wasn't much work that I missed."
With advanced classes, a social life, and a keeping conditioned and ready for the next game it can be hard when the athletes have to miss.
"It's really tough missing so much school because missing lessons can cause me to fall behind in a lot of classes," senior Tiffany Licon said.
Sports like soccer have tournaments for two or three weeks, causing students to miss the same classes week after week, this can be detrimental to a students' education if they do not take steps to ensure
that they are on top of their education.
"During JV last year, I had friends in the classes that would help with notes," Johnson said. "My friends have played a big role in helping me succeed."
Playing sports on a team creates a strong bond within the team The road trip to far Texas cities where music is blasted, fun is had and laughs are exchanged.
"Traveling with my team and placing in tournaments have been memorable,"  junior basketball player Carson Donahue said. "We got third at a Waco tournament this year and I'm proud of that."
A benefit to the busy schedule is learn how to maintain the equilibrium between responsibilities so later in life, in a job or on college, they can be more efficient.
"I balance the workload by time managing and prioritizing," Licon said.
On top of homework students have every night, student athletes have sports practices and workouts to attend, this conditions students to manage their time shrewdly.
"Time management affects us all, even as adults, we only have a certain amount of time," coach Felipe Mendoza said. "Time must be used wisely or you are wasting it."
Many students might get time in class or FIT to complete work or study but when days are missed, the student has to create time outside of class.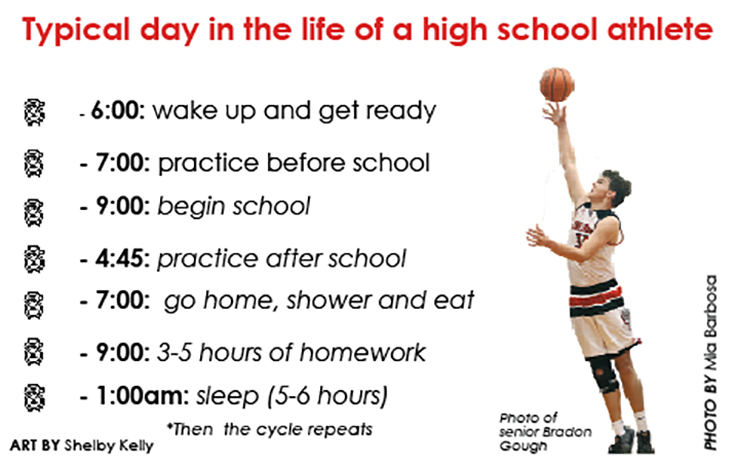 "The hardest part is having to make up all the work I missed on my own time," Licon said.
Falling behind on work and catching up on work is even harder than trying to keep up with work.
"To me, sometimes it is worth it to miss school because I love soccer," sophomore soccer player Pablo Bartolo said. "Sometimes it isn't worth missing school because I miss important material and some classes like English can be a challenge."
Mendoza explains that although being a student athlete is a balancing act of achieving academic success and performing at a high athletic level, it can also be  worth while and enjoyable.
"As a student athlete it was fun to miss school," Mendoza said. "I liked missing school to play with friends and the sport I loved."
Teachers understand the passion that student athletes have and want them to be able to play, as a result coaches constantly remind students to do well academically and to keep on track on and off the field, Johnson
explains that with this help it worth it.
"I really enjoy soccer, I think it's worth missing school," Johnson said. "It's been  great being on the team and  there's something special about it.