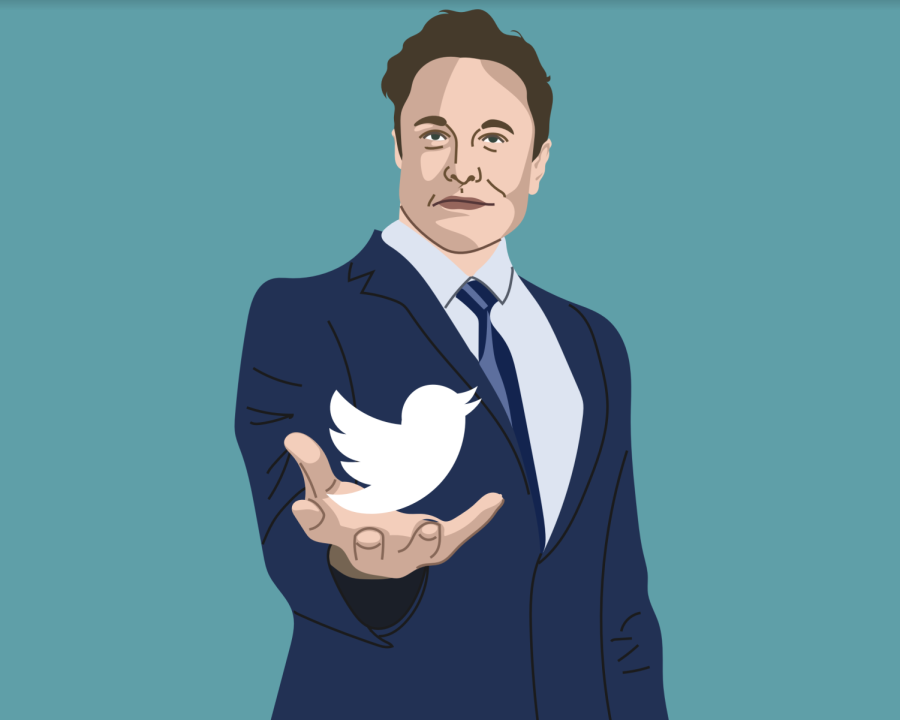 Asher Hagan
On Monday, April 25, the world famous social media platform Twitter board of directors agreed to sell itself to billionaire entrepreneur and Tesla's CEO, Elon Musk. Musk is well known as a very high profile and controversial Twitter user for several years. The price Musk proposed and is planning on buying Twitter for is roughly $44 billion.
Musk buying Twitter is going to cause more harm than good for him and Twitter stakeholders. Musk says himself his main reason for purchasing Twitter is to allow more freedom of speech, which I think can be very problematic and will end up causing a negative use of freedom of speech.
Musk has shown to have very erratic behavior in the past and I think his motives in purchasing Twitter are very questionable. Musk is also one of the richest men in the world and I believe he should not get more power than he already has. I also believe this deal will not go through as Musk is known to be an attention seeker.
Musk has continuously criticized Twitter on their content moderation policies for being "too censorious."  Musk wants the new Twitter to have "freedom of speech," however, many industry experts think that this freedom will lead to more hate speech.
Musk has a long track record of causing a multitude of issues for Twitter. In 2019, Musk was taken to court for defamation because of tweets about British Cave Diver Vernon Unsworth. Musk was also sued on other occasions for making tweets that hurt the company. Before Musk offered to buy Twitter, he was originally going to join the Twitter board. In a turn of events and at the very last minute, he reversed the plan and offered to buy Twitter.
Many government officials are worried that Musk buying Twitter could lead to Trump regaining control of his account and start causing chaos. Along with former president Donald Trump, many other users have been banned from violating Twitter's policies. "Permanent bans should be extremely rare and really reserved for accounts that are bots, or scam, spam accounts… I do think it was not correct to ban Donald Trump," Musk said at FT Lives Future of the Car conference. Musk taking over could mean all of these people getting their accounts reinstated.
Musk is the CEO of the popular electric car company Tesla and many other very well known companies. In Musk's Tesla market alone, capitalization has hit the $1 trillion mark multiple times and keeps growing. Musk's net worth is at $265.4 billion and it keeps climbing. Twitter's total assets is $14.06 billion. Musk buying Twitter adds more billions to his net worth and power to him overall, which can be very dangerous in the long run.
On May 13 Musk tweeted "Twitter deal temporarily on hold pending details supporting calculation that spam/fake accounts do indeed represent less than 5% of users." If Musk backs out of the deal, he would owe Twitter a $1 billion breakup fee.
Unfortunately, there is  little known about what Musk plans to do with Twitter. His latest move seems to be to either pay less for Twitter then his original offer, or walk away if Twitter doesn't cave.
Ever since this deal arose the stock market has been impacted. Tesla's stock has been drastically affected at a drop of 28%, shedding $300 billion in value over five weeks and Twitter has also been heavily affected at a drop of 23%. It wouldn't be surprising if Twitter's current stakeholders bring a lawsuit against Musk if the deal falls through.
If Twitter's sale does not go through, future chaos could be avoided. Musk could have just joined the Twitter board and then he would not gain full power and access to the company.
Musk is going to cause a lot of issues by buying Twitter. Musk wants to open up freedom of speech but that could lead to a lot of hate speech and unwanted people reinstated on Twitter. Musk has made very poor decisions with Twitter in the past and I think his intentions for buying the company are very questionable