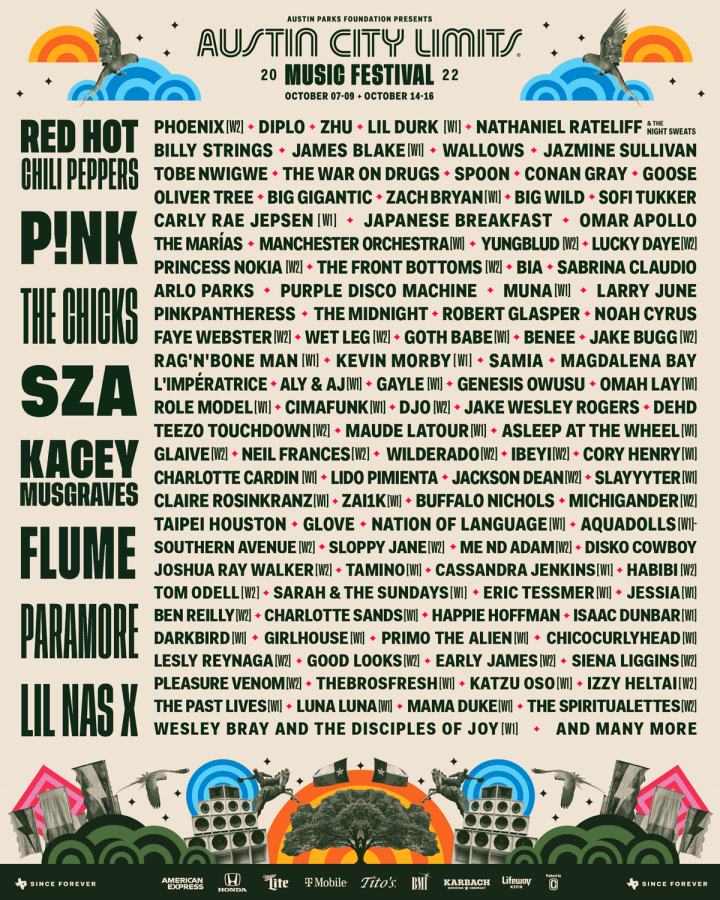 Photo courtesy of aclfestival.com
As the end of the school year rolls around, many know that the ACL lineup was recently released on May 10. This got many people excited for the annual Austin City Limits music festival and there are a few things you should know if you have never been, or even if you have.     
This year the festival will be hosted in Zilker Park, as always, on October 7-9 and October 14-16.
Tickets went on sale on the Austin City Limits website on May 10 at 12 pm. The tickets start at a price of $295 for a weekend pass and the price increases for add ons. The additional types of tickets along with GA, are GA+, V.I.P., and Platinum which will range from $295-4750 for either weekend. There are also hotel packages for out-of-Austin visitors coming in to be a part of this annual music festival. These prices are all found on the official ACL website where you can also purchase tickets.
You can get tickets from May 10 through the weekend of the festival. While it will be more difficult to get a ticket closer to the festival date, tickets are still available for a similar price on resale sites such as Ticketmaster and SeatGeek. These resale sites are great if you forgot to buy your ticket or had a change of plans.
Given that Austin City Limits hosts around 450,000 people each year so you can expect a lot of traffic getting to ACL and leaving, so give yourself plenty of time to sit in downtown traffic. As many know parking can also be a mess when it comes to ACL, it's good to be aware of road closures and additional detours while getting to the festival and plan around that. Things like carpooling and uber'ing are good ways to help you escape the traffic each night After the last performances have finished.
Whether you're more into country music or R&B, Austin city limit will have it all. When you arrive at the festival you'll be surrounded by many artists of all different genres so everyone has something to listen to.
For example if you're into some classic 90s rock hits you might recognize Red Hot Chili Peppers who will be one of the main headliners at ACL this year.
Some other artists who are also performing include Conan Gray, SZA, P!NK, Kacey Muskgraves, The Chicks, Paramore, and Lil Nas X. These performers will be the few of many to perform at Austin City Limits this October.
You can find more information about the lineup for this year's security, tickets and any of your other Austin City Limits related concerns on the official Austin City Limits website, aclfestival.com.
Upon seeing the release of the 2022 Austin City Limits lineup, I was excited for performers like Conan Gray and Red Hot Chili Peppers, but while the lineup does have a diverse selection of genres this lineup does not compare to other years, performer wise. None the less, ACL will be a fun festival whether or not your favorite bands are playing.