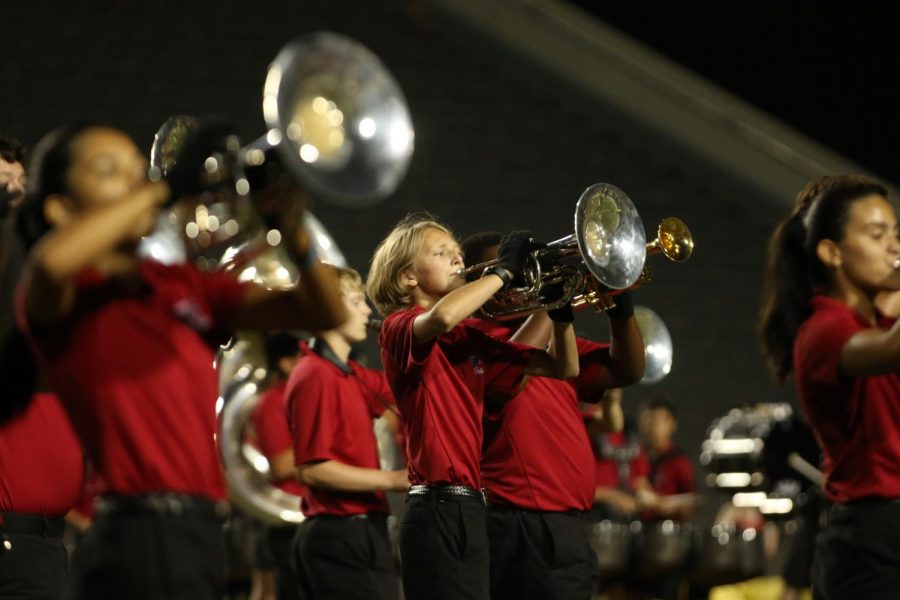 Nick Wood
In the state of Texas and specifically AISD, marching band is only being counted as half of a physical education (or PE) credit. Schools are counting sports as a full credit of physical education because of their athletically recognized activity, and even though marching band includes just as much physical activity it isn't getting counted as a full physical education credit. Some students (marching band members in particular) don't agree with AISD's decision, while others are either not inclined to have a decision on the topic or completely agree with the no marching band credit policy.
In simple terms, any high school marching band should be worth a full physical education credit. As a member of the Bowie High school marching band, I believe that marching band has the right amount of demanding physical activity to be counted as a full credit toward physical education. 
Every summer, the staff and students of the Bowie High School band dedicate their summer vacation to outdoor and indoor rehearsals. From my own first-hand experience, marching practice in one hundred degree heat is very tedious. It includes a fitness block before marching/drill practice, and that can definitely feel like it's worth a physical education credit. While student marchers get more than enough physical activity from eight hour outdoor practices, AISD still puts marching bands into the half a credit category.
Practice times for marching band can vary from school to school. A normal week's schedule consists: Monday and Tuesday from 5:15pm to 7:45pm, Thursday and Friday from 7:00am to 8:30am, and individual practices within different sections that can range from ninety minutes to three hours. Weekly practice times added up (not including the individual section practices) to eight hours or four hundred and eighty minutes. This information about the practice times give more proof that marching band is a full time elective that needs more than half of the physical education credit. 
Most (if not all) AISD marching bands participate in global marching competitions. The tier list of competition rankings range from region, area, to state and some bands go above the rankings to be nationally recognized for their performance. As a well known example, football has their divisions as a ranking list while competing against other AISD teams. Although football is more recognized as "physical activity", marching band should be considered as demanding physical activity as well because of the UIL competitions that go beyond state rankings. 
The Board of Trustees (staff of AISD that makes policies and rules) are wrong for not giving attention to the hard working marching bands that dedicate their time to their high schools. The board is so blind sided by mainstream sports such as football, soccer, baseball, etc. that they don't see what our marching bands do. It seems that people think that cheering in the stands for the halftime shows make up for endless hours of practice. Most of the people at football games are so focused on finding their seat after a restroom break that they fail to even attempt to see a marching band's halftime show.
A reasonable solution that seems right for "the half of a credit issue" is to have an AISD staff member from the Board of Trustees come and see a marching band practice in ninety plus degree heat on a Monday afternoon. Will it then be enough proof that marching bands do more than play a couple of songs for football teams? Or can AISD play the bigger role and give marching bands a full education credit. 
 I stand by the marching band needing to be worth a full physical education credit. After being a part of the Bowie Outdoor Performing Ensemble for two years, I think it's worth AISD's time to change their class credit policies and give marching bands across Texas the acknowledgement they need.