Billie Eilish documentary review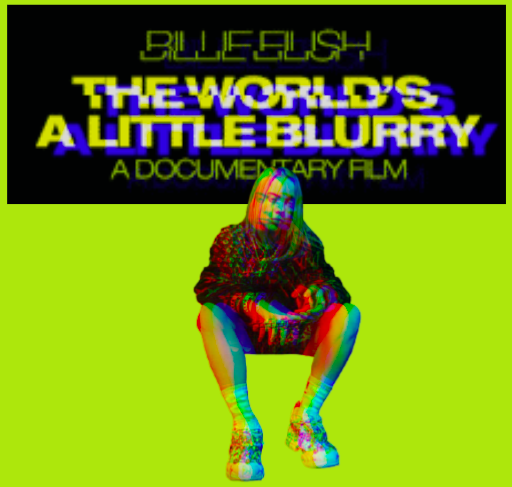 Billie Eilish recently released a documentary titled, "Billie Eilish: The World's a Little Blurry," which can be watched on Apple TV with an Apple TV plus subscription. The documentary gives an inside perspective on Billie's life, which shows everything from the beginning of her career, from shows, tours, as well as her thought process of some of the songs that she has put out, the documentary also shows her relationships with her family as well as other people.
The documentary also mainly features the making of her album, "When we all Fall Asleep, Where do we go?" I really enjoyed watching these parts of the documentary because it was really interesting to watch everything they went through in order to release the album. It showed many clips of Billie and her brother, Finneas, who helps Billie and collaborates with her in order to come up with songs and to figure out which sounds best.
I really enjoyed how the documentary showed the ups, downs, and realism of being a celebrity and doing a bunch of big things at such a young age. Billie put her body through so much pain in order to give her fans the performance that they want, as well as the performance that she wants to give. She also talks about how a lot of stress and pressure there is when being a big celebrity. It's very realistic and it definitely gave me a different perspective on what celebrities go through every day and how it's not always easy to be famous, and it's not always what people see on the outside.
While watching, I noticed that Billie is very raw and blunt when it comes to what she wants her songs to mean, everything she writes about is just really straightforward. A lot of her slower songs are about struggles with mental health, but then there are other songs that aren't slow and have a dark and edgy feel to them. She also writes songs about love and the way love can make a person feel, and realistic outcomes of love. This documentary kind of shows more of what her songs mean and just the thought process of everything and how each song has its own meaning behind them. I wouldn't have thought of everything that goes on behind the songs if I didn't watch this documentary, it really gives me a new perspective when listening to her songs.
I actually really enjoyed watching this documentary. Every aspect of it was really cool and intriguing to see from an inside perspective rather than an outside perspective. I've always been a fan of her music and never really put much thought into each of her songs, I just understood the general meaning and liked how they sounded, but now the songs are a lot deeper than I thought. I like how the documentary captures very real things that happen, like everything with mental health and the stress that celebrities like Billie go through. I would definitely recommend this documentary to people who like Billie Eilish, and even those who aren't as interested in her music, it really just shows more of who she is as a person and captures a new perspective.