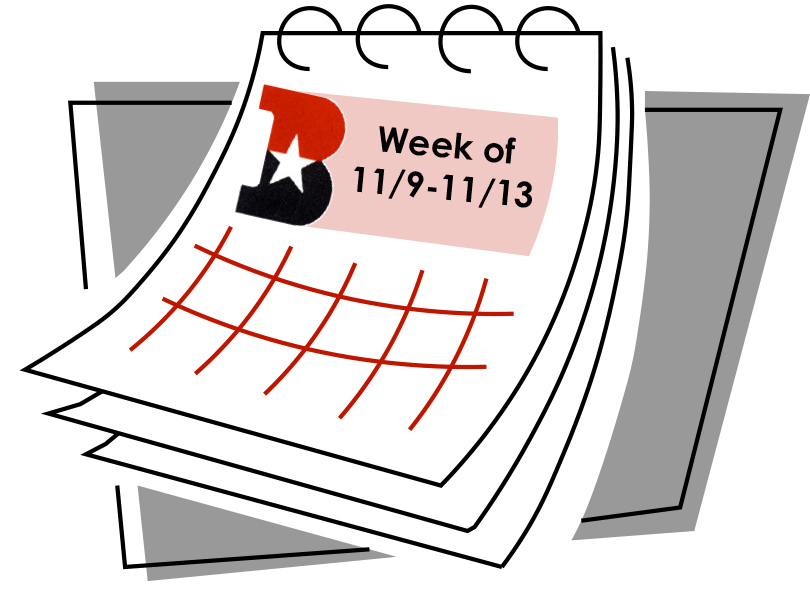 Rae Gray
"The Bulldog Breakdown" is a weekly news brief column that serves as an announcement board for upcoming events and opportunities in the Bowie community. On Mondays, "The Bulldog Breakdown" is published as a preview of the week's planned activities. On Fridays, "The Bulldog Breakdown" is published again with information about student awards and accomplishments throughout the respective week. 
COMMUNITY
Monday, Nov. 9: Official Start of the Coordinated School Health (CSH) Kick-Off Week
The Coordinated School Health initiative aims to encourage students to adopt healthy habits such as exercise, healthy eating, and stress management. To improve overall student wellness, CHS activities will be announced throughout the week in Principal Mark Robinson's daily morning announcements, which can be viewed in the Bowie High Campus Community BLEND Course. 
Monday, Nov. 9: Student Council Can Drive
The Student Council is now accepting donations for their Bowie Food Drive. The collection program will end on Friday, Nov. 20, and all donations can be submitted into a box located in the main office between the hours 8:45 a.m. and 4:45 p.m. 
Monday, Nov. 9: National Honor Society Charity Drives
As of Monday, Nov. 9, the National Honor Society (NHS) officially began their two campus collection drives for charity. One of the drives requests food items for local food banks while the other requests winter clothing in good condition. The collection bins are located near the school entrance and will remain open until Friday, Nov. 20. 
SPORTS
Wednesday, Nov. 11: Girls Soccer Team Tryouts Informational Meeting
All female identifying students interested in trying out for the Bowie girls soccer team should sign up, via the FIT portal on the AISD Cloud, for Coach Hoffman-Howell's informational team meeting on Wednesday, Nov.11 or Wednesday, Nov. 18. 
Thursday, Nov. 12: District Swim and Dive Meet 
The James Bowie Swim and Dive Team will face off against the Anderson and the Liberal Arts and Science Academy (LASA) Swim Teams at a tri-team swim meet. The meet is expected to begin at 9:00 a.m. and finish by 11:00 a.m. 
Friday, Nov. 13: District Volleyball Game
The upcoming district volleyball match will be between Bowie and Del Valle from 4:30 p.m. to 9:00 p.m. JV1 and JV2 will play at 5:30 p.m. and the Varsity and Freshman teams will play at 6:30 p.m. 
Saturday, Nov. 14: District Boys Basketball Game
The Bowie boys basketball team will face off against Steven A. Marshall at 2:30 p.m.