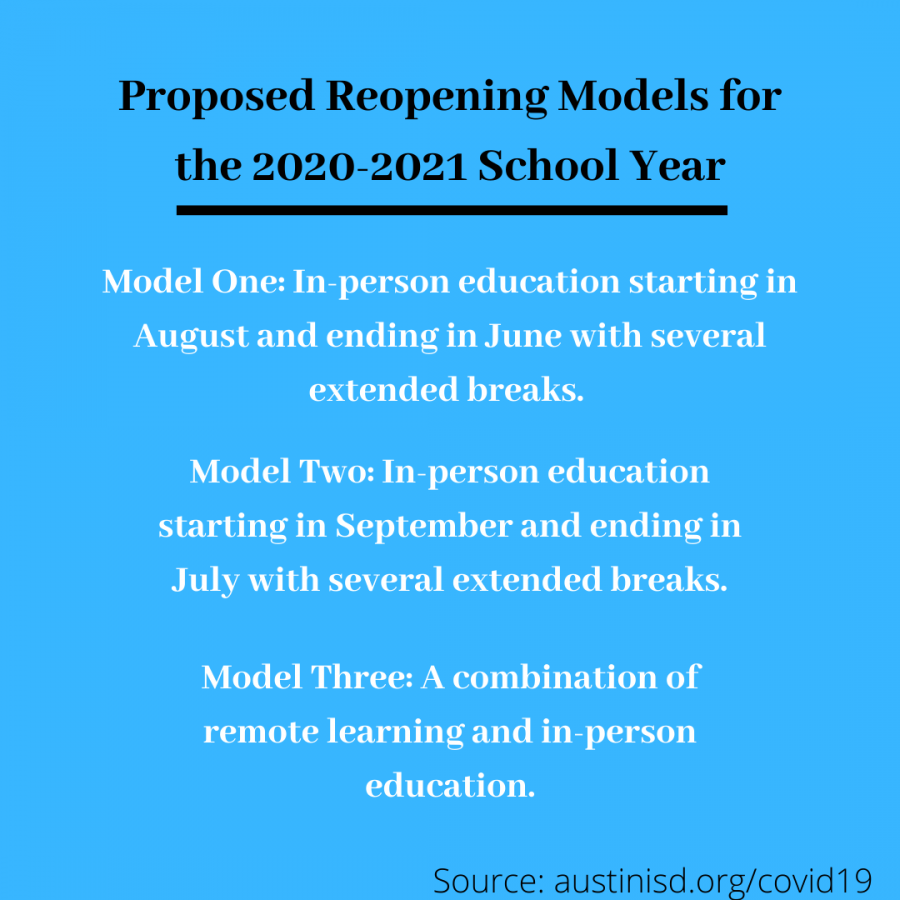 Cade Spencer
Since March 13, all Austin Independent School District (AISD) facilities have practiced a form of remote learning in response to prolonged campus closures. Last week, the AISD Board held a meeting to discuss school education in the 2020-2021 school year.
"The board has approved a calendar," AISD Superintendent Paul Cruz said in the board meeting. "We are moving forward with the calendar once we get the go ahead. Any change of a major calendar will come back to the board for review."
As approved in the board meeting, the official calendar for the 2020-2021 school year follows a traditional pattern with classes starting on Tuesday, August 18 and ending on Wednesday, May 26.
"[If we returned to school] I would definitely want rules to be put in place that require students to wear face masks. Moreover, as many schools in Europe are doing, having strips of tape separating desks so that they are six ft. apart, decreasing class sizes, and having proper sanitization stands around school would be necessary," rising junior Taru Mishra said. "If the school prioritizes student health above all else when reopening the schools, I think we should be in good hands."
In order to create plans to deal with possible 'what if' scenarios, Cruz has formed a Reopening Task Force consisting of teachers, parents, community members, and central office staff. "The superintendent has formed a Reopening Task Force to consider the implications of three potential models, keeping in mind that we might have to return fully to distance learning if we learn that it is unsafe to operate in our school buildings," AISD officials wrote in a public announcement.
Within a public announcement, AISD leaders explained that the Task Force is discussing three possible scenarios for the 2020-2021 school year: an in-person model with an early start and built-in extended breaks, an in-person model with a delayed start and built-in extended breaks, and a combination of in-person and remote learning. 
"Firstly, I would like to see my teachers hold more Zoom calls in the future if [we continue with remote learning," Mishra said. "Additionally, I think it is vital for many teachers to implement 'Flipped Classrooms.' This is where teachers will post videos teaching students concepts for homework and during "class time" students can simply join into class zoom sessions to work on assignments about the previous night's homework video and ask teachers for help on assignments."
In addition to input from local authorities, AISD has created a survey asking parents to reflect on the remote learning experience so far and their needs and wants for the 2020-2021 school year.
"Keep in mind that the models being considered are a work in progress," AISD documents said. "We will continue to gather input from parents, families, and staff in the coming weeks—because we know that we are in an ever-adapting situation."