Celebrities should stop endorsing political figures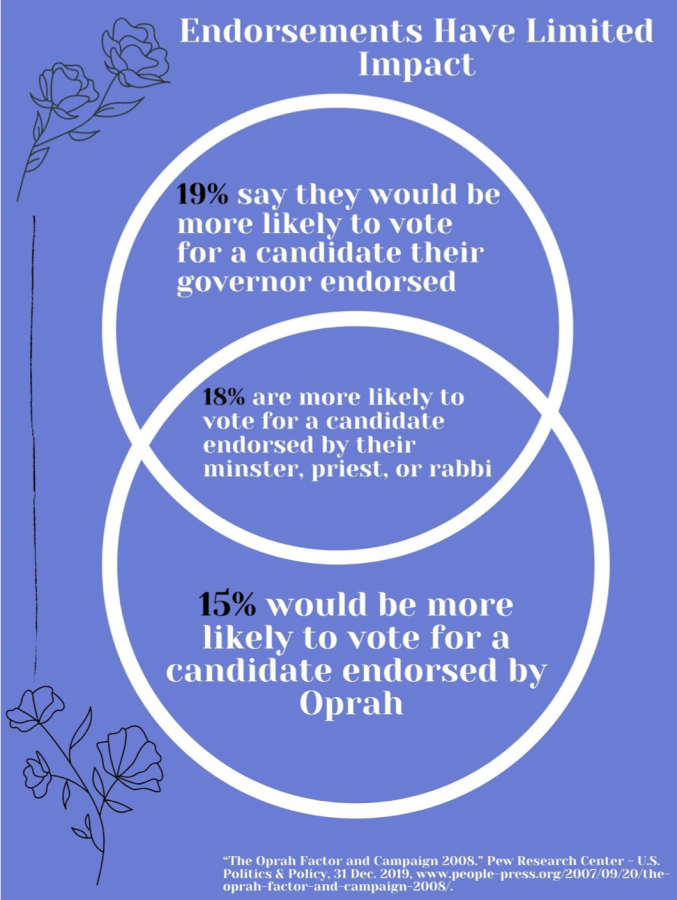 Celebrities have a large influence. Their fashion can be seen in magazines everywhere, paparazzi are paid to follow them around, they have millions of social media followers who are constantly willing to put down money to support their favorite artist. Due to this large amount of influence, it's no surprise that people have tried to capitalize on it. Celebrity political endorsements go all the way back to the 1920s, they were less of a representation of the star's political beliefs back in the day, and more used for commercial purposes, their meaning and impact have changed a lot over the last 100 years. Now, celebrity endorsements say a lot about a star and what they want to represent. 
The effectiveness of celebrity political endorsements is incredibly unpredictable. It's estimated that Oprah's endorsement of Barack Obama in the 2008 primary translated to approximately 1,000,000 votes for Obama. However, a survey done by Pew Research Center shows that 69% of voters said the endorsement had no impact on their vote. The most impactful type of endorsement comes from other political figures. The Pew survey shows that people believe the most effective endorsement would be one from the governor of their state. So why would a celebrity go through the trouble of involving themselves in something that really doesn't concern them? Celebrities seem to think they owe it to the public to share every aspect of their life when in reality most people don't care. Instead, all they're doing is encouraging impressionable fans to vote for someone because their favorite celebrity said to. 
Celebrities speaking out against different specific issues is not the problem but it's when you attach those ideas to a person that things might start to become an issue in an unexpected way. Bernie Sanders and Hilary Clinton both had huge amounts of star power behind their campaigns in 2016 and 2020, but both ended up losing. 
People are realizing more and more that they don't want to hear from a famous millionaire what they should do to fix the problems in their country when most people can barely afford to put food on the table. People want actions from celebrities more than their political views. Some celebrities can back up their political statements with action which is extremely commendable, but most seem to expect people with less income, less resources, and less time to do the work for them. 
No one wants to silence someone's voice and tell them they can't share their opinion but you have to back up what you say with action. Celebrity endorsements don't work the way political candidates and celebrities wish they did. It's time we give them up and move towards real action.