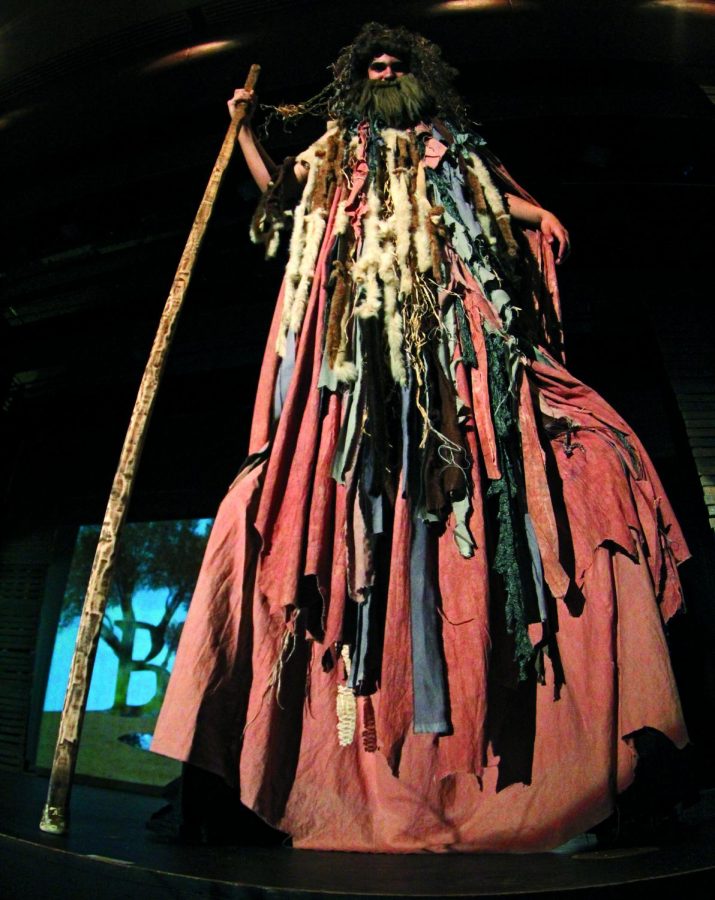 Faith Lawrence
In a rare move, theater directors pick two freshman for important roles in play
The audience applauds in awe as freshman Lainey Killian and freshman Javier Lozano bow, concluding their first high school musical.
The Big Fish Musical was showcased on January 16-19 and January 23-26. This year, two freshmen were cast as the leads in the show, which in most cases, is uncommon at Bowie.
"Being one of the two freshman leads in the musical makes me overwhelmed with graciousness," Killian said. "I feel really honored and it just inspires me to work even harder. "
For this musical there were two casts called the Larson and Davis cast which were separated by switching every other day. Killian was on the Davis cast.
"I play Josephine Bloom who is Will's wife," Killian said. "I get to wear a wedding dress and later she is pregnant. I am very thankful for my role."
Killian has been acting for six years and first started at the Mosaic Children's Theatre. She has starred in seven musicals and five plays so far.
"My first play was in fourth grade and it was for How the Grinch Stole Christmas," Killian said. 'It was so fun and I learned so much just from that one play."
Lozano played Karl the Giant who goes on a series of adventures with the main character, Edward.
"My role entailed a lot of singing and dancing, obviously," Lozano said. "But something that was really cool was walking on stilts because I had never done it before. My double and I immediately started practicing because we both knew that would be the hardest part."
The casting for Big Fish started in early November.
"I freaked out when I saw the cast list," Lozano said. "I just couldn't believe it, it was such a big deal to be so young but still be a lead. "
Betsy Cornwell is a theatre teacher and one of the directors for Big Fish.
"I always focus on directing some of the group scenes and costuming," Cornwell said. "We have six stock rooms of costumes, and I know what is in most of them. This makes it easier for me to decide what we can pull and what we'll have to make to fit the production."
There were five directors who helped work on and produce the Big Fish Musical.
"I can't even remember what it was like to direct a musical by myself," Cornwell said. "Mr. Bazan and I joked about the amount of work it takes to mount a musical and can't remember how we did it by ourselves. Having five directors participating in preparation for a musical helps us to focus on the technical areas that we are most adept at."
The rehearsals for leads were every day after school due to how complex their parts were.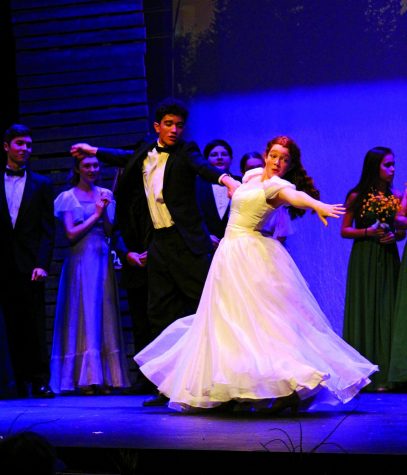 "It has been such a process but it was really rewarding to see how much it progressed," Lozano said. "I have been able to improve my acting and singing ability which is very helpful so I am thankful for that."
Freshmen are not usually cast as leads due to the fact that there are so many upperclassmen who are interested in participating.
"We double and triple cast leading roles to give more opportunities to start learning what it's like to have to carry a show," Cornwell said. "Javier and Lainey had the right skills to play the minor roles, and both were double cast with a senior."
Lozano has performed in five musical and eight plays.
"After being the nutcracker in my school play in fourth grade I just knew it was for me," Lozano said. "From then on I just kept on going and as the years progressed I kept getting more and more roles. I like being able to entertain people and becoming someone new is just a super fun thing to do."
Big Fish in total had eight shows and earned a standing ovation each night.
"I was very happy with how Big Fish turned out," Killian said. "Everyone worked hard but also had a lot of fun."