The ascending price of living in Austin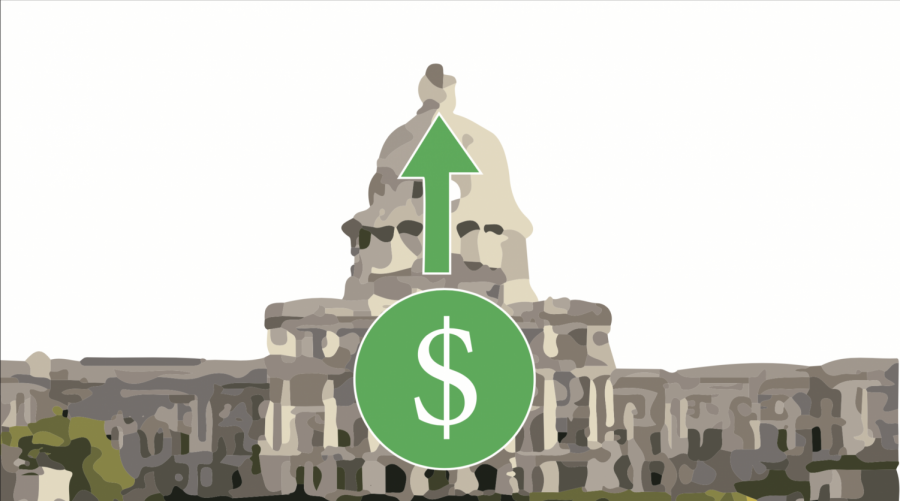 Like it or not, Austin isn't the city it once was. A city that had a vibrant, underground culture full of free-spirited hippies pursuing their passion, is now evolving into a hot-spot for tech startups, higher prices, and corporate America. Of course, Austin will continue to grow, but when the expansion of the city strips away the culture that built the city, the positives no longer outweigh the negatives.
Let's go back in time to 1970. Austin had a population of 250,000, and the city was vastly different from today. There was no real industry, and Willie Nelson was one of Austin's only claim to fame. Plenty of bands trying to gain exposure performed anywhere they could, no matter how small an event was. Fast forward to now, where the largest private employers are H-E-B, Apple, and Samsung, according to the Austin Chamber of Commerce. Besides, the changing dynamic of Austin has resulted in many nostalgic Austin businesses to close because of rent prices.
Nowadays, there are too many examples to cite, but the list of long-time Austin restaurants closing continues to grow. One of the most recent notable closings was Hut's Hamburgers, which opened in 1939 and announced the closing this past June, and Frank and Angie's, an Italian restaurant owned by the same owners of Hut's Hamburgers, closed last year. And in case if you hadn't already guessed it, a 28-story mixed-use building will replace Frank and Angie's.
Frank and Angie's won't be the only long-time Austin restaurant to close and be replaced by big business. The Frisco Shop, an American restaurant running strong for 65 years, closed in July of 2018. The restaurant was loved among all groups of people, and served as a symbol for civil rights in Austin as it was one of the first restaurants that hired women and minorities, and desegregated years before the Civil Rights Act of 1964 was signed into law by Lyndon B. Johnson. However, it's not just long-time restaurants impacted by the increasing rent prices and increased developments: it's affecting the residents that helped develop Austin's culture to where it is.
In 1928, city officials designed a zoning plan that was described as a "Master Plan" that would effectively segregate the city. The master plan came after a 1917 Supreme Court ruling that zoning laws that segregated against minorities were illegal, and the master plan was developed as a way to circumvent the Supreme Court ruling. As a result of the master plan, almost all of the African-American population had to live East of I-35 but were not given the same economic opportunities as the rest of the population.
The City of Austin decided to create a "Negro District", which effectively segregated Austin, and utility companies cut off services to African-Americans who lived outside out of the district. This resulted in the rest of African-Americans living outside of the Negro District to move to the district. Because African-Americans were not given the same opportunities to succeed in Austin, many of them struggled with poverty but didn't move because where they lived was pretty cheap and came together as a community.
Today, developers have recognized the potential of East Austin and the process of gentrification has begun, as new developments and housing have sprung up in the past several years. On the surface level, it may seem like a good thing, but the developers launching new businesses and housing aren't doing it with the long-time residents in mind.
Because of these developments and rising cost of living in East Austin, many of the residents that have had generations of family living in East Austin for decades are now moving out because of rising property taxes and overall cost of living.
According to Zillow, the median cost of a home in Central East Austin in January 2010 was $243,000. The cost has now increased by a staggering 90% to $461,800. It is almost  impossible for someone who has lived in East Austin when home prices were fairly cheap to be able to afford the property taxes on a house whose value has increased by ninety percent in just ten years.
As Austin continues to develop, it is important that the diverse culture and quirks of Austin that helped build the city continues to remain as a flagship of what makes Austin unique. If the things that makes Austin unique leave, an essential component of the city will be left in the dark.